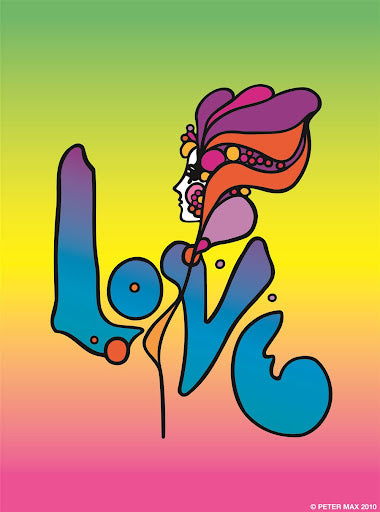 THE COLORFUL PETER MAX

Peter Max via Instagram
Early Life of Peter Max
Peter Max Finkelstein is a German artist born on October 19, 1937, in Berlin, Germany. He's known for his unique brand of rainbow-hued prints and paintings associated with the culture and visual arts of the early 1960s, particularly known as psychedelic art and pop art.
His parents, Jacob and Salla Finkelstein, fled the Nazi regime in Berlin in 1938, settling in Shanghai, China, where they lived for the next ten years. His father made a comfortable living as a pearl merchant. Peter's time in Shanghai influenced much of his later work. The Buddhist paintings may have been what inspired Peter to become an artist. 
The Max family is also said to have lived a year in Tibet before moving to Haifa, Israel in 1948. While in Tibet, Peter's fascination with the cosmos is stimulated when he discovers the wonders of astronomy. He attended school in Mount Carmel when his principal suggested to his parents that he be put in art lessons after school due to him always drawing instead of taking notes. He began studying under Professor Hunik, a Viennese Expressionist. 
Peter Max's Different Drummer 
From Israel, his family moved westward and stopped in Paris for several months – an experience Max said greatly influenced his art appreciation. Peter's mother enrolled him in sketch classes at the Louvre, where he began to study Fauvism. 
Max and his family made their final move, settling in Bensonhurst, Brooklyn, New York in 1953. He attended Lafayette High School alongside future actor Paul Sorvino. 
Beginning of Peter Max's Art
In 1956, Peter began his formal art training at the distinguished Art Students League of New York in Manhattan, studying anatomy, figure drawing, and composition under Frank J. Reilly. After the League, Max becomes interested in the avant-garde and attends the progressive School of Visual Arts. 
In 1962, Max started a small Manhattan arts studio known as "The Daly & Max Studio", with his friend Tom Daly. They were joined by friend and mentor Don Rubbo, and the three worked as a group on book cover illustrations and advertising, for which they won numerous awards and recognition. 
Max created the 'Bettmann Panopticon' exhibition in 1963 at SVA's Visual Arts Gallery in New York City, with works by leading art directors and designers created from images of the Bettmann Archive, the renowned collection of 20th-century historical imagery. 
Peter Max married Elizabeth Ann Nance, a former beauty queen from North Carolina, in 1963 and divorced in 1976. The astrology-minded couple share two children, naming their first child, born in 1964, Adam Cosmo and their daughter, Libra Astro Max. 
Swami Satchidananda, a yoga master, whose dynamic spiritual presence affects him profoundly, met Peter in Paris in 1966 while he was there to consult on a film. Max says, "The Swami and yoga taught me a whole new way to draw, it empowered me to feel the cosmic consciousness within, and to allow that to flow out of me into my art." Max invited him to visit New York and helped him found the Integral Yoga Institute. 
In 1967, Max solidified his place as a counter-cultural icon by designing the flyers for the second ever 'Be In', a political gathering of mainly hippies in New York's Central Park after the Easter Parade on March 26, 1967. 
Peter became a pop culture icon and appeared on The Tonight Show with Johnny Carson on August 15, 1968, where the set design features his poster art. He also appeared on The Ed Sullivan Show, drawing live for a long segment watched by millions. In kinetic motion, he drew with both hands simultaneously, creating large, mirrored images. 
On September 5, 1969, he was featured on the cover of Life Magazine under the heading "Peter Max: Portrait of the artist as a very rich man." The story was delayed for a few weeks because of the events in Vietnam, which caused Max to forget about it. Upon returning to the United States from a holiday vacation to Barbados, Adam, Max's son, pointed at a newsstand displaying the Max Life covers and promptly bought all copies. He was amazed to see the story ran eight pages long. 
"In Shanghai, I saw Life covers with five-star generals, and baseball and movie stars. I could never imagine that one day it would be me." —Peter Max
The multinational conglomerate company, General Electric, commissions Max to create a line of art clocks and over the years, his art embellishes seventy-two product lines from kitchen utensils to even shoes. 
Peter Max's fascination for space and astronomy, makes way for the commemorative posters for the Apollo II Moon Landing on July 20, 1969. 
Max's First solo museum exhibition, The World of Peter Max, opened at the M.H.de Young Memorial Museum in San Francisco on March 12-April 26, 1970. It draws tens of thousands of visitors and as a result of its success, forty-six additional museum exhibitions are scheduled around the United States, mounted by the Smithsonian Institute Exhibition Services. 
His magazine covers were universal, and his art even adorned the cover of the New York City Yellow Pages in 1970, 1973, and 2001. 
In 1971, he switched his creative and colorful silkscreen art to realism and worked with oils, acrylics, and variance of brush sizes. Expressing himself with spontaneous, expressionistic brushstrokes. 
The United States Postal Service commissioned Max to create the first environmental 10-cent postage stamp to commemorate the Expo'74 World's Fair in Spokane, Washington. Using the phrase, "Preserve the Environment." 
In 1976, U.S. General Services asks Max to create 235 "Welcome to America" border murals, displayed at the entry points between the U.S. and Canada and Mexico. President Jimmy Carter held simultaneous celebrations in each of  the U.S. border towns at the unveiling. Soon after, Max and his family are welcomed to a White House celebration with the President and First Lady, Rosalynn Carter. 
On July 4, 1976, Max began his Statue of Liberty series, leading to his efforts with Chrysler CEO Lee Iacocca to help the restoration of the statue. "Peter Max was the spark that lit the torch that ignited the Statue of Liberty renovation," Mr. Iacocca said on the project's completion. 
In that same year, "Peter Max Paints America" was published. King Carl XVI Gustaf of Sweden presented Max's book of paintings and collages to commemorate the United States' Bicentennial Celebration at the White House to President Jerry Ford on behalf of his country to the United States. 
President and Mrs. Ronald Reagan invited Max to the White House for Reagan's first Fourth of July celebration in his presidency in 1981. Max painted six eight-foot tall Statues of Liberty paintings at the White House Rose Garden, inviting President Reagan to honor him and paint the final brushstroke. 
In 1999, Woodstock producer, Michael Lang, asked Max to create the world's largest stage set for the 1999 Woodstock Music and Peace Festival. Previously commissioned Max to create posters and open the 1944 concert, in front of 400,000 people.
For the Frank Sinatra Centennial in 2015, Max paints Sinatra portraits and unveils them at his NYC studio with Sinatra's daughter Nancy, granddaughter Amanda, and other celebrity guests. A selection is shown at the GRAMMY Museum exhibition, "Sinatra: An American Icon," at Lincoln Center's New York Public Library for the Performing Arts. 
Today, Peter Max still lives in New York City but sadly developed dementia, largely the result of Alzheimer's disease, not allowing him to keep doing what he loves most.