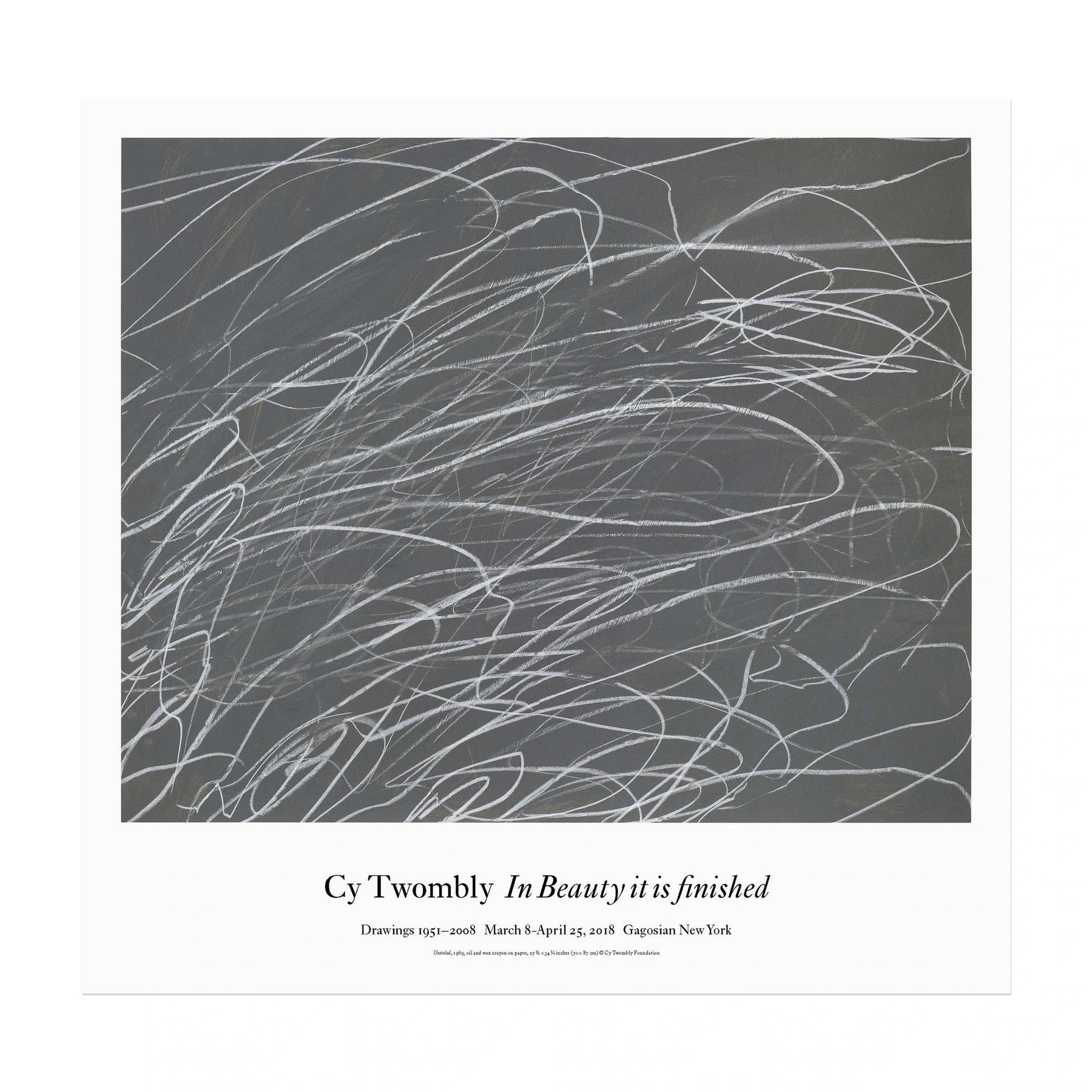 CY TWOMBLY IN BEAUTY IT IS FINISHED POSTER
CY TWOMBLY IN BEAUTY IT IS FINISHED POSTER
Pictured above is Cy Twombly's "In Beauty it is finished" poster by Gagosian. The iconic image's phrase "In Beauty it is finished" comes from Navajo chant and was quite unusual to go with Twombly's personality, but Gagosian decided to use this phrase due to its uniqueness for his works. "In Beauty it is finished" is a collection of drawings and works on paper by Cy Twombly created between the years of 1951 and 2008. This exhibition dotted the accomplishment of the Cy Twombly: Catalogue Raisonne of Drawings, with the final volume, the eighth. One of the first works incorporated in the exhibition is from a 1951 sketchbook made by Twombly. A multitude of drawings in the sketchbook include a waterfall of pencil markings, erasings, and many other pieces of evidence of Twombly's strict focus on the paper. During the 1960s, color started to make its way into Twombly's drawings and you can start to see more gray and blue in his works, whereas before it was pure dull colors. These colors describe Twombly's thinking over the years as he moved deeper into poetic and mythic thinking. Many of the images in this exhibition were kept in his studio following his death, this was the first time they were ever shown. This exhibition showed them for the first time ever. Currently, the above pictured poster is sold out on Gagosian's website but here at Fine Art Vendor, we do offer the official print for sale. It is not a poster, but an authorized print authorized by Cy Twombly himself to be printed. If you are interested in purchasing this print, please click HERE or view our 'Cy Twombly' collection. We offer a variety of Twombly's works, not only 'In Beauty it is finished' but a multitude of many more works.
Cy Twombly, Untitled, Multiple Mediums on Paper 1983-2002
About Cy Twombly and his Drawings
Cy Twombly is known for his famous paintings, sculptures, and calligraphy, all of which have made their way into famous museums in the world. He was born on April 25, 1928. His father played for the Chicago White Sox and both the father and son were nicknamed after one of the greats of baseball, Cy Young. Cy Twombly studied at the School of the Museum of Fine Arts in Rome, Georgia after high school. He studied with other well known artists whose names include the great works of Franz Kline, Robert Motherwell, and Ben Shahn.  At the age of 12 years old, Cy Twombly began creating history. At an early age, Twombly was taking private art lessons with the Catalan master Pierre Daura. This practice in his early life reflects today as his work is admired by millions of people. Looking at Cy Twombly's drawings today, they are extremely articulate and their rhythm is unmatchable. All of his art contains an ageless language and represents the old and new culture even in today's day. Robert Motherwell organized Twombly's first exhibition in New York in 1951. At the time of this exhibition, Twombly's work mainly was influenced by Franz Kline's expressionism and Paul Klee's scenery. This opened the road for Twombly's life and art career. Later on in life, Twombly exhibited with Gagosian Gallery, this gallery opened a gallery specifically for Twombly in Rome, Twombly's hometown where he grew up. They had an inaugural exhibition of Twombly's work here titled 'Three Notes from Salalah'. This was the beginning of his career with Gagosian, Gagosian later went on to present the exhibition above 'In Beauty it is finished' in honor of Twombly to showcase his work all throughout the years. Twombly's most expensive painting ever auctioned went for a whopping $70.5 million at Sotheby's New York in 2015, 4 years after he had passed. Cy Twombly passed away in 2011 at 83 years old. He had been battling cancer for years and unfortunately passed away at an old age. He passed away in his own hometown of Rome.
Cy Twombly's Exhibit in Philadelphia Museum of Art
Fifty Days at Lliam
During the Summer of 1977, Cy Twombly set about to begin working on a series of paintings based on Alexander Pope's translation of Homer's iliad. Twombly ended up concluding this series of paintings in 1978 and they are all exhibited at the Philadelphia Art Museum in today's day. It is based on the last fifty days of the Trojan war. It is a series of 10 very large canvases and is put in order of the events that happened in the last fifty days of the Trojan war.
Shades of Night
Twombly created another series of very large drawings around the exact same time that Fifty days at Lliam was created, titled "Shades of Night". This series is also exhibited in the Philadelphia Museum of Fine Art. The idea behind 'Shades of Night' is to provide his preparatory work to his viewers and to show his development of visual motifs. The series of large drawings appears to be shown as abstract colors and lines. In the image above, the letter "s" in "shades" is hard to read, providing us with the insight that Twombly is aiming for us to read the word as 'Hades', who happens to be the Greek god of the underworld. In Fifty Days at Lliam, Twombly uses an image to represent each person - Patroclus, Hector, and Achilles, representing them all as color clouds and giving us, the viewer, a visual look into what he was thinking during the time.
Bronze Sculptures
Cy Twombly also created six different sculptures during the Fifty Days at Lliam as well. Each sculpture represents ecstatic victories and depressing defeats of the classical wars. These sculptures are also viewable at the Philadelphia Museum of Fine Art along with the Fifty Days at Lliam and Shades of Night exhibitions. These sculptures are all casted in bronze and were hand selected by Twombly to go along with the paintings in the Philadelphia Museum of Art.