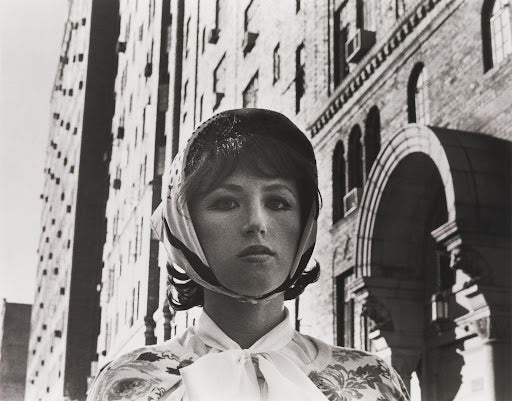 CINDY SHERMAN NET WORTH
CINDY SHERMAN NET WORTH
Untitled Film Still #17, Cindy Sherman, 1978
By turning the camera on herself, Cindy Sherman has built a name as one of the most respected photographers of the late twentieth century. 
Cynthia Morris Sherman is an American artistic photographer born on January 19, 1954, in Glen Ridge, New Jersey. She is widely recognized as one of the most important and influential artists in contemporary art. Her work consists primarily of photographic self-portraits, depicting herself in many contexts and as various imagined characters. 
Cindy Sherman is a multimillionaire whose influence and artistic style have made her one of the most influential artists in the world. The photographer has been credited as a contemporary legend in the visual arts industry. 
Sherman is one of the richest living artists in the world and has made a name for herself after releasing the Untitled Film Still series, which was released in 1977. The 70 black and white Film Stills immediately became flashpoints for conversations about feminism, postmodernism, and representation, and they remain her best-known works.
Early life and education
Shortly after Sherman's birth, her family moved to the township of Huntington, Long Island, where she grew up as the youngest of five children. Her father worked as an engineer for Grumman Aircraft, and her mother taught reading to children with learning difficulties. She has described her mother as good to a fault and her father as strict and cruel. 
Sherman has said, "It wasn't until college that I had any concept of what was going on in the art world. My idea of being an artist as a lid was a courtroom artist or one of those boardwalk artists who do caricatures. My parents had a book of, like, the one hundred one beautiful paintings, which included Dali and Picasso among the most recent artists."
In 1972, Sherman enrolled in the visual arts department at Buffalo State College, which is also known as the State University of New York in Buffalo, New York, where she began painting. As a freshman, Sherman set out to study painting until one day, she was frustrated with what she saw as the limitations of painting as a medium of art, she abandoned it and took up photography. She said that she felt that, "…there was nothing more to say [through painting]. I was meticulously copying other art, and then I realized I could just use a camera and put my time into an idea instead." 
In retrospect, she has expressed that she never could have succeeded as a painter, stating that she is unable to react to paintings in anything more than a visceral way. During her remaining time at Buffalo, she studied photography, where she met fellow artist Robert Longo. Together with Longo, Nancy Dwyer, and Charles Clough, Sherman formed Hallwalls, an independent artists' space where she and fellow artists exhibited.
Early work
After Sherman's graduation in 1976, she decided to move to New York City to embark upon her art career. Taking a loft on Fulton Street in Lower Manhattan, Sherman began taking photographs of herself. These photographs would come to be known as the Untitled Film Stills, perhaps the most well-known and recognizable work of Sherman's career.  
In these photographs, Sherman places herself in the roles of B-movie actresses. Her photographs show her dressed up in wigs, hats, dresses, and clothes unlike her own, playing the roles of characters. In each of these photographs, Sherman plays a type – not an actual person, but a self-fabricated one. There is the archetypal housewife, the prostitute, the woman in distress, the woman in tears, the dancer, the actress, and the malleable, chameleon-like Sherman plays all of them.
How Much Is Sherman Worth?
The photographer has an estimated net worth of $35 million as of 2022. She amassed this net worth from her career as an artist. Her primary source of income is her career as a photographer. Through various sources of income, Cindy has been able to accumulate a good fortune but prefers to lead a modest lifestyle.
The Most Expensive Photographs
Untitled #96, Cindy Sherman, 1981
Untitled #96, 1981 
In 2011, Cindy Sherman's photograph, the Untitled #96 (1981) piece was sold for $3,890,500 to a New York dealer. The photo held the title of the most expensive ever sold for only a few months.
The photo features Cindy in her teenage years laying on the floor in several stereotypical poses at the time, always looking away from the lens and out of frame. The photo is part of Sherman's Centerfolds series from the same year. Some specialists believe that the picture sold for a sky-high price not for the art, but because of other factors. 
Sherman was responsible for all aspects of the photos, including makeup, hair, lighting, directing, modeling, and photographing. The image sold again in May 2012 for $2.89 million, making it simultaneously the 12th most expensive photo ever sold. 
Untitled Film Still #48, Cindy Sherman, 1979
Untitled Film Still #48, 1979
Cindy Sherman's Untitled Film Stills series was made between 1977 and 1980. The image, Untitled #48, is the most expensive one to be sold from it. The series was created to show fictitious female characteristics in images that could be taken straight from films.
As in her other works, Sherman poses in the image herself and is responsible for all the staging. Untitled Film Still #48 was previously sold in 2014 for $2,225,000, and again in May 2015 for $2,965,000, making it the 18th most expensive photograph of all time. 
Untitled #153, Cindy Sherman, 1985
Untitled #153, 1985
Another of Cindy Sherman's visually stunning self-portraits makes it onto the list of most expensive photos ever. This time, Untitled #153, depicts a blond woman lying in some grass, covered in mud. It's not confirmed or clear, but it's presumed she is dead. The image takes inspiration from the femme fatale character of classic film noir. The photo sold for $2,770,500 in November 2010. 
Untitled #92, Cindy Sherman, 1981
Untitled #92, 1981
Another of Cindy Sherman's images, Untitled #92 from the Centrefolds series, makes it into the list of 24 most expensive photos ever. This time, Sherman has made herself look like a stereotypical school girl, with a checkered skirt and white blouse. It could easily be mistaken for a still from a film, particularly something from Alfred Hitchcock, due to her natural pose and attention to detail, such as dirt under her fingernails. This image sold for $2,045,000 in November 2013.
In addition, Sherman's work has been specifically cited as opening a new, "expanded field" of photography for Jeff Wall, Anna Gaskell, Justine Kurland, Jenny Gage, and Sharon Lockhart. Such artists extend Sherman's anti-narrative approach to the medium and its subject, in work that frequently suggests unresolved stories and scenarios wrenched from contexts both common and disturbingly mysterious.