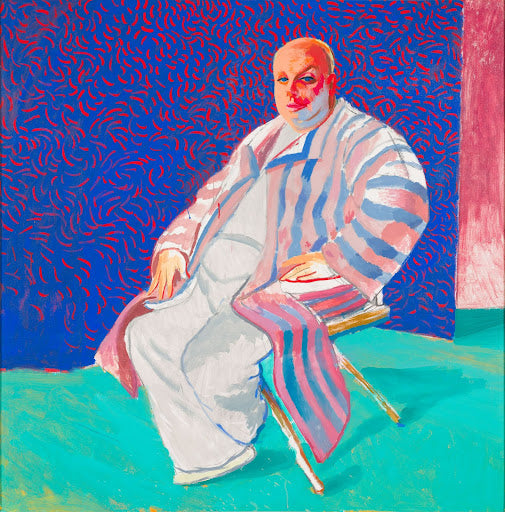 David Hockney Divine Print
BEHIND DAVID HOCKNEY DIVINE PRINT
Divine, David Hockney, Painting 1979
David Hockney is an English painter, draftsman, printmaker, stage designer, and photographer. He was born on July 9, 1937, in Bradford, United Kingdom, and continues to live this beautiful life every day. He has worked with one of his most striking sitters, Harris Glen Milstead, better known by his stage name, Divine.
"THE MOST BEAUTIFUL WOMAN IN THE WORLD, ALMOST." –DAVID LOCHARY
Divine was introduced to Hockney by artist Don Bachardy at Divine's request. Hockney took the opportunity to experiment with his fresh style, inspired by California, capturing the flamboyant actor and beloved personality full figure, with a distant look but a raw face.
Who was Divine?
Divine, born on October 19, 1945, in Towson, Maryland, was an American actor, singer, and drag queen. Divine became famous for his starring roles in many of John Waters' films, most notably Hairspray and Pink Flamingos. One month before his death in 1988, the film Hairspray was released and his dream of becoming a well-respected actor was finally coming to fruition. 
Divine was only 42 at the time of his death. His body was found at the Regency Plaza Suites Hotel in Los Angeles, California on the morning of March 7, 1988. Weighing in at more than three hundred pounds, he passed in his sleep from cardiac arrest due to an enlarged heart. His body was flown to his hometown, Towson, Maryland, where it is buried in Hillpark Cemetery. 
The critics praised his performance as the character, Edna Turnblad, and his agent, Bernard Jay, claimed he had never seen Divine happier. He also landed a guest role on the hit TV series Married… With Children, but passed away from an enlarged heart the night before filming.
Harris Glenn Milstead, "Divine" Class of 1963
Divines Early Years
Harris Glenn Milstead, (preferred being called Glenn to distinguish him from his father) was born on October 19, 1945, in Towson, Maryland to Harris Bernard and Frances Milstead. Glenn was an only child, his mother had suffered two miscarriages prior to his birth. By 1945, his family was relatively well-off within their community and were socially conservative Baptists. Glenn would later describe his family as "your upper middle-class American family."
At the age of 12, Glenn and his parents moved to Lutherville, Maryland, a suburb of Baltimore. Where he attended Towson High School and was bullied for being overweight and his perceived effeminacy. 
In a 1988 interview, he recounts how the bullies in his school beat him up badly on a daily basis. He kept this to himself for fear that things would only get worse until one day, when he had to go to the doctor for a physical, his bruises were noticed after he disrobed. After breaking down and speaking up about the abuse he was going through at school, his parents called the authorities and the vicious kids were expelled. Sadly, this only made Glenn more unpopular in his school.
Glenn was a very introverted and artistic teenager who loved painting and took an interest in horticulture who suffered so much from being self-conscious about his weight that, in the same interview mentioned above, he speaks of how he never went out until he was about sixteen years old – around the same time he met and became friends with future filmmaker John Waters.
He would always wear a raincoat to cover himself. He learned how superficial the world can be when, in his junior year, he finally went on a diet and lost eighty pounds and suddenly the same people who wouldn't speak to him started talking to him, and he was able to make friends. Furthermore, he describes that experience as a "rude awakening at a very young age."
After graduating from high school in 1963, Glenn began attending the Marinella Beauty School where he learned hairstyling, which would benefit him in his career in show business. After graduating he worked at several salons and in time his parents helped him buy his own salon in Towson, hoping he would learn responsibility. Working as a women's hairdresser sparked Glenn's interest in drag. 
Divine and John Waters
A couple of friends Glenn began collecting throughout the years were filmmaker John Waters and David Lochary, who would appear in several movies with Divine later. Glenn and his friends easily embraced the counterculture and underground elements of Baltimore, frequenting the beatnik bars and clubs at the time. 
The nickname "Divine" was given to Glenn by John Waters, himself. At the time, Waters was reading Our Lady of the Flowers by Jean Genet, which was a controversial book about homosexuals living on the outskirts of Parisian society, borrowing the name "Divine" from a character in the book. In a 1973 quote, Divine confirmed he liked the name John gave him and that no one called him Glenn anymore.
It was in the 1970s, while frequenting LGBTQ events and after Divine made his name known, that Waters would encourage Divine to make his drag persona more excessive and gaudy, commenting that Divine should become the "Godzilla of the drags queens" which was in direct contrast with the beauty and glamour normally associated with drag queens.
DIVINE MOVIES
The first film in which Divine appeared dressed as a woman was Roman Candles, filmed in 1966, in which he dressed as a smoking nun. Eat Your Makeup was the second movie in which he appeared in drag, filmed in 1968. In this film, he portrayed a fictionalized version of Jacqueline Kennedy who kidnaps fashion models and forces them to eat their own makeup. 
At the time, the films were not widely received but remained underground within the hippie subculture. Needless to say, Divine made a point of keeping his involvement with these low-budget underground films from his conservative parents, who would not approve.
Divine
Divine continued to appear in drag in more of Water's films, such as The Diane Linkletter Story in 1969, which was loosely based on the true story of Art Linkletter's daughter, Diane, who had committed suicide the previous year. 
However, since this was a John Waters film, and he had every intent on becoming known for "bad taste films," intent on shocking conservative society, The Diane Linkletter story was filmed as a black comedy and not publicly released for legal reasons. It was, initially, screened at the first Baltimore Film Festival.
Divine played the leading role of a young girl who rebels against her parents because they are against her dating a hippie; her character goes on to ingesting a large quantity of LSD and committing suicide.
The movie that inevitably shot Divine to stardom was Pink Flamingos. Another John Waters film which he admits was meant to be "an exercise in poor taste," Pink Flamingos is a story about Babs Johnson (Divine) a woman who owns the title of "the filthiest person alive." Mink Stole and David Lochary play a couple who are bent on challenging her to take that title of "filthiest person alive" for themselves. Needless to say, there are several disgusting scenes in the movie, but the most infamous scene is at the end where Babs eats fresh dog feces; not one of those fake plastic turds but a fresh one. According to Divine, he and the filmmakers followed the dog for three hours until he finally had to relieve himself.
After gaining success among underground cinema fans, Pink Flamingos was picked up by New Line Cinema and gained a cult following. When Divine's parents finally found out about his career and saw the film, they were disgusted and eventually moved to Florida and didn't speak to him for nine years.
Theater, Music and Hairspray
After Pink Flamingos, Divine and Mink Stole starred in a number of small-budget plays at the Palace Theater in San Francisco as part of a drag troupe called The Cockettes. 
In 1974, after returning to Baltimore, Divine continued filming in drag and appeared in the film Female Trouble then years later, Polyester, Lust in the Dustand Trouble in Mind, where he got to play the role of a man. He took a role in Tom Eyen's comedy, Women Behind Bars, playing the prison matron, Pauline. The play gained success in New York City's Truck and Warehouse Theater and was later taken to London's Whitehall theater. 
During the disco era, Divine's agent, Bernard Jay, recommended that Divine take advantage of his love of nightclubs and start performing at them. He performed his first live show in 1979 at a gay club in Florida and was a hit and his career doing live performances took off. 
Divine described his stage performance as "just good, dirty fun," bantering with his audience members, often swearing at them and inviting audience members up to the stage to fondle them; his followers ate it up. In his own words, "if you find it offensive, honey, don't join in."
John Waters and Divine
Before long, Divine saw the potential commercial success of including disco songs in his acts. He recorded a number of disco singles that became successful, such as You Think You're a Man, Shoot Your Shot and Love Reaction, among others.
The 1988 movie, Hairspray, would prove to be a turning point in Divine's career. In Hairspray, Divine played Edna Turnblad, the mother of Tracy Turnblad, played by Ricki Lake. Tracy is a chubby teenager in the 1960s whose dream it is to become a dancer on a local television show, and who also fights against racial segregation. 
Divine also played a second role in Hairspray as the racist television owner Arvin Hodgepile. Not only did John Waters succeed in creating a commercially accepted film, but according to many, Divine was the show stealer despite Ricki lake being the main character. Hairspray marked Divine's breakthrough into mainstream cinema, a goal for which he had been striving for years.
His final role was in the 1989 comedy horror movie Out of the Dark, where he played a foul-mouthed policeman named Detective Langella investigating a murderer who dresses as a clown. Out of the Dark was released after his death.
Death of a Legend
Divine's legacy lives to this day; he has been a great inspiration to many artists. Portraits of Divine have been painted by artists such as David Hockney and Andy Warhol. Divine was the inspiration of Ursula the Sea Witch, the villain in Disney's 1989 animated film The Little Mermaid. 
In 2018, Kat Von D Beauty released a super limited collection inspired by Divine, celebrating self-expression and positivity. 
Many believe Divine would have enjoyed a long, successful career as the talented and funny male character actor he was and always wanted to be if he hadn't been taken from us so soon.