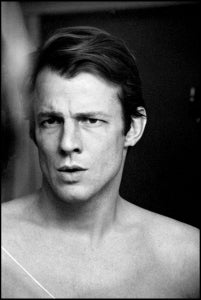 Peter Beard : Growing Up
THE CHILDHOOD OF PETER BEARD
Early Life of Peter Beard
Most of us have heard about the wild Peter Beard, known for his pictures of African Wildlife, diaries with animal skin, smears of animal blood, and at times, his own, and horse-hair clippings, fashion photographs, and collages but, do any of you know his unique and privileged upbringing? I, myself, could roughly find significant details in his childhood or influence from a young age. Therefore, I've gathered all I've found about him to make it accessible for you to know his early and late history.
Peter Beard was born an aristocrat on January 22, 1938, in New York City to Anson McCook Beard, Jr., & Roseanne Hoar. An heir to a railroad fortune from his mother's side and a tobacco inheritance on his father's. He was the middle of three sons, Anson Junior and Samuel. Peter spent his early life in Alabama with his family, while his father served in the Air Force and was stationed at Maxwell Air Force Base. He also grew up in New York, summers spent on Long Island, with the rest of the year spent in Tuxedo Park. 
Ruth Hill, his grandmother, married Pierre Lorillard V, after the death of his grandpa, Anson Beard, a New York lawyer, in 1929. Her father-in-law, Pierre Lorillard IV, built a planned community, Tuxedo Club, that included a hunting and fishing club and game preserve, surrounding their estate. Ruth's husband, at the time, built a 52-room French château built for her by Pierre, which was the largest house in Tuxedo. Lorillard died in 1940. She became one of the first three women to serve on the Jekyll Island Board of Governors and was elected to the executive committee as a vice president.  She later remarried Emile Heidsieck is a member of the French family known for Piper-Heidsieck champagne. 
The founder of the Great Northern Railway in the 19th-century and creator of the First National Bank in Saint Paul, James Jerome Hill, was Peter's paternal great-grandfather in conjunction with being a patron of the arts whose art collection included works by Corot, Rousseau, Courbet, Daumier, and Delacroix. It's known that in 1878, Hill and other investors purchased the St. Paul and Pacific Railroad and worked relentlessly to push the line north to Canada and then west across the Rocky Mountains to the Pacific Ocean. The railroad hauled goods and passengers, helped bring wheat harvests to market at Minneapolis, and encouraged immigration along the route.
As a child, he began to keep diaries that included horse-hair clippings, animal skin, pebbles, bark, insects, bone, mud, blood, etc. His grandmother gifted him his very first Voigtlander camera, which he used to begin taking photographs as an extension of his diaries. 
Peter's education consisted at Bellinger Hill School, Buckley School, where he won first prize in a school photo contest with a photograph of his dog, Charcoal, Pomfret School, and graduated from Yale in 1961. He initially enrolled in pre-med but changed his major to Art and studied alongside Josef Albers, Neil Welliver, Vincent Scully, Alex Katz, and many more. He shot pictures for Condé Nast while at Yale.
One of Peter's first role models was his father's cousin Jerome Hill(1905-1972), who was a painter, photographer, composer, artist, and filmmaker. He was the "ultimate Renaissance man" to Peter. Jerome created two foundations that support emerging artists – the Jerome Hill in the US and the Camargo in Cassis, in the south of France. 
Life in Africa
At age 17, he took his first trip to Africa with the explorer, filmmaker, and bibliophile Quentin Keynes– son of Geoffrey Keynes, nephew of John Maynard Keynes, and Charles Darwin's great-grandson– as his guide, and spent the summer capturing wildlife in South Africa, Zululand, Bechuanaland, Portuguese East Africa, Madagascar, and Kenya using his grandmother's gift, his Voigtlander camera. Some of the pictures he took made it to his breakout work, "The End of the Game" in 1965. 
Peter returned to Africa later on, where he began to make connections that led to him making the country his second home, on the Queen Mary with Willie DuPont and read Out of Africa by Isak Dinesen (Karen Blixen); because he was captivated by the book. Jerome Hill, Peter's cousin, made it possible for Peter to meet Karen Blixen in Copenhagen in December 1961 and later returned in 1962 to make photographic portraits of her. 
On Peter's second visit to Karen Blixen, she gave him a letter of introduction to her former majordomo, Kamante Gatura, whom Peter found in Renguti Village, Kenya. 
In the mid-sixties, he received a special dispensation from President Jomo Kenyatta to purchase Hog Ranch, a 45-acre tent encampment and studio for his books on Africa, outside Nairobi, with the mandate that he would film, photograph, write and document the local flora, fauna, and peoples. Mbuno would become the mainstay at Hog Ranch, Kenya, from 1966 to 1992.
After Blixen's death on September 7, 1962, Peter invited Kamante to live with him at Hog Ranch, which led to the rise of the Hog Ranch Art Department. In December 1967, The Rungstedlund Foundation and the literary executors of Blixen's estate granted Peter the film rights to Out of Africa. Kamante later died in 1985 at Hog Ranch, where he stayed since 1962. 
From 1964 to 1965 Beard worked in Tsavo East National Park, Kenya, and started documenting the destruction of the 8,300 square-mile habitat and subsequent death of over 35,000 elephants.
Shop Peter Beard Prints Here
"The End of The Game" (1965), consisted of a mix of haunting black-and-white photographs and forceful text that documented the starvation through overcrowding of tens of thousands of elephants, rhinos, and hippos in Kenya's Tsavo lowlands and Uganda parklands. As Peter stated in his book, "The deeper the white man went into Africa, the faster the life flowed out of it…," 
The Early Life Friends of Peter Beard
Throughout his travels and career in Africa, he befriended and collaborated with artists such as Francis Bacon. He saw Peter's point immediately and was moved by the images of decomposing elephants. Labeling them "grandiose sculptures, which beyond simple abstract form bear the imprint of vanity and tragedy of life." They met at Bacon's new show at Marlborough Fine Art, London, in March 1967. 
He also befriended and collaborated with Andy Warhol, Salvador Dalí, Bill Woodley, who then became the Warden at Tsavo East National Park; Douglas Tatham Collins who showed Peter the Shag and Greater Shag during the Congo Revolution; professional hunters Bryan Coleman and Bryan Hurt who were practicing game control; as well as – Ewart S. Grogan, Philip Percival, Ian Parker, Alistair Graham, Robin Hurt, Gordon Plant, Archibald Roosevelt, General Chui, and other Tsavo Park wardens whom all had influence to Peter's unique African experience and lead to his book; The End of the Game: The Last Word from Paradise. 
Peter kicked off a great friendship with artist Richard Lindner, whom he met in New York City at a Thanksgiving lunch with Arne Ekstrom.  Lindner later painted the "Crocodile and Large Woman" for the publication, Eyelids of Morning: The Mingled Destinies of Crocodiles and Men.
Peter was a free-spirited man who was able to live his life with no restraints, being born into the privilege of a railroad and tobacco fortunes. On the afternoon of March 31, 2020, Beard, who was suffering from dementia, wandered away from his Montauk, Long Island home and was found on April 19, 2020, by a hunter in a densely wooded area in Camp Hero State Park in Montauk Point, New York. It's said, "he died where he lived: in nature."