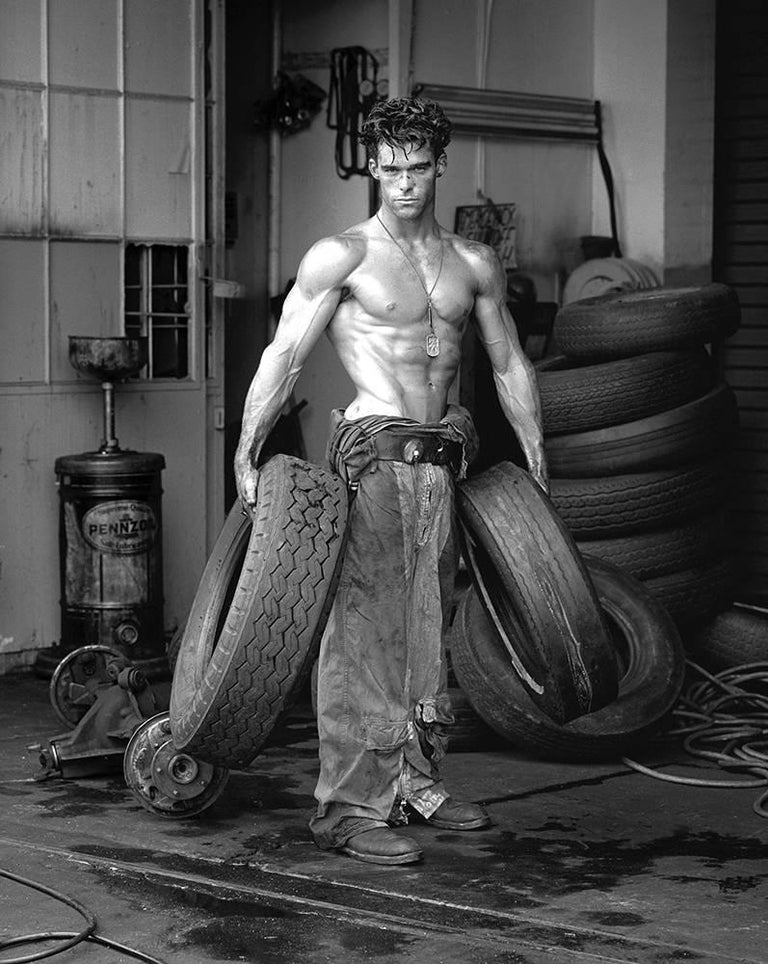 HERB RITTS FRED WITH TIRES MODEL
HERB RITTS FRED WITH TIRES MODEL
About the Image
You can Purchase the Original Print Here- 
This image was photographed by Herb Ritts in Hollywood in 1984. It was part of the "Bodyshop Series" that Ritts photographed. This image in particular was one of the more popular images of the series as people loved everything that had to do with this image. 
The model photographed is named "Fred Harding". Fred was the most desirable male body in the 1980s and made the reputation of the photographer Herb Ritts well known and popular around the world. Gay men swarmed to purchase the print. They were drawn by the powerful, ideal male body, the dirty jeans, the boots, the chain, the abs, just all of it! But do not be fooled, this image is just a perfectly taken fantasy for gay men. It is meant to attract everything that gay men desire. Fred is perfectly posed, his hair is greased up and beautifully styled, the grease is even seen throughout his whole body with his glistening muscles. He is positioned just to the right to express his muscles and help them appear. Everything that a gay man is looking for in an image, it is just the perfect image. The perfect lighting does wonders as well, seeming that his body is "glowing". The tires big and bulky to portray a gay man lifting heavy objects and really expressing that masculinity in Fred. Almost everyone I knew had a print of this in their living room or bedroom at the time this was pictured. This image was popping in the 1980s and still today it's even popping. Some people have fallen in love with this image and will never let it go from their possession describing it as "falling in love with the man on the wall holding the tires". Tire shops in today's day even have this specific image pictured on their wall to attract gay customers and pschylogically keep them in their shop admiring the tires along with the beautiful man. It psychologically keeps gay customers coming back to their store to purchase tires. Fred with Tires portrayed the apex of a male body type in the 1980s, even in today's day and became one of the most iconic images of its time.
ABOUT FRED HARDING
Fred Harding was a male model in West Hollywood at the time of this photograph in 1984 looking for work. Fred was the poster male model in West Hollywood, with his impossibly muscular body, it was hard not to notice him. Fred Harding stated "I didn't know who herb was, My LA agent told me that Herb was going to make me famous. It was 1983.". Fred did not know who Mr. Ritts was and ended up working with Ritts through his male model agent which connected them together. Fred was a student during this shooting and towards the end of this particular shooting, Fred was tired of swinging around heavy tires all day to the point where he just turned around and stood there. It was the last frame of the shot and most importantly became the most iconic shot of the whole shooting! This is not the only photo shoot Fred Harding had with Herb Ritts. These two also worked together in 1988 for the GQ magazine, Fred posed with Tatjana Patitz in another interesting image.
Fred Harding with Tatjana Patitz Photographed by Herb Ritts for GQ 1988
Other than that, there is not much information on Fred Harding. After his photoshoots with Herb Ritts, Fred did not go on to do much more in his lifetime. It is hard to find any information on Fred Harding in today's day.  He posed for Allen Cox Beachwear in a few photos to advertise the brand. 
Allen Cox Beachwear - Fred Harding
Fred Harding went on to create one of the most iconic images of the gay world in the 1980s and then disappeared after that not being seen or heard from again.
PORN RUMOR SURROUNDING FRED HARDING
Some people describe the success of the image from an errotic rumor that seems to be going around. Some believe Fred Harding to be one of the most famous and successful gay porn actors going the stage name of "Jeff Quinn" of the 1980s. Jeff Quinn worked for most of the high quality gay male studios including but not limited to - Falcon Studios, Catalina Video, Huge Video, and Laguna Pacific Video. He appeared under the name "Rhett Routley" in the December, 1985 issue of Playgirl magazine as Man of the Month. He also appeared in nearly a dozen 1987 magazines aimed at gay male audiences. Of course, this is a rumor that is going around. Some people say they look nothing alike, others claim that they are the exact same person. One claimed that the "guy with tires has more muscles" while the gay porn actor has slightly smaller muscles to his frame. Another claimed "They have different size and shape of ears and that's where it becomes obvious that they are two different people."
Image of Jeff Quinn
It is definitely hard to tell and a very similar look between them "both". The face between the two images definitely looks identical but it is hard to tell. This image of Jeff Quinn does appear to have the same hairstyle and grease throughout his hair as well as "Fred with Tires". The body infrastructure appears very similar, both being very strong and aesthetic males. It appears that they do have the same eye color as well and the same skin complexion. Some people believe that this is one of the reasons that the image "Fred with Tires" became so iconic is because a popular porn actor had gone for a photoshoot and his gay followers discovered the photoshoot and absolutely loved it. Some people describe it as disappointing that he is a gay porn actor that has had success in that errotic industry. Whatever the case may be, "Fred with Tires" is definitely one of the most influential and thorough images of the 1980s and of Herb Ritts Career. Herb Ritts did a great job with Fred and that image will forever be one of Herb Ritts best of his career.