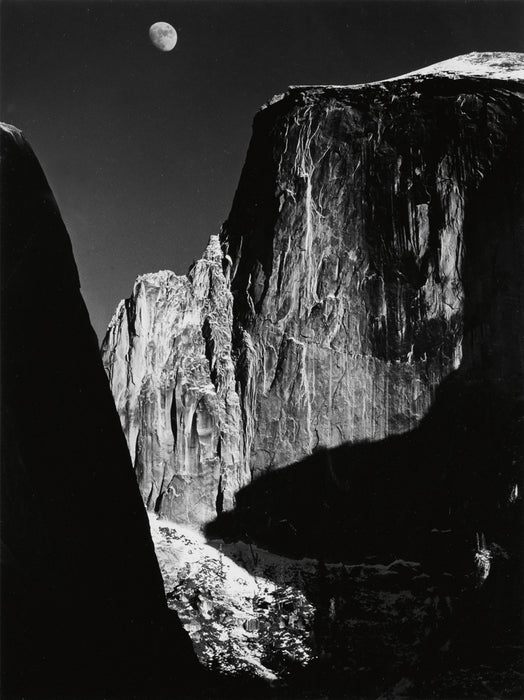 Ansel Adams - Moon and Half Dome, California 1960,
Save

0

%
Save %
Original price
$753.25
-
Original price
$753.25
ANSEL ADAMS (B.1902-1984)
Moon and Half Dome, Yosemite National Park, California 1960

11.5" x 9"
Moons feature in many of Ansel Adams photographs. It is difficult to take photographs including the moon where it doesn't either appear as an over-exposed white disc, or if a negative giving this is manipulated at the printing stage, a featureless grey disc.
By 1960 Adams was sufficiently skilled in anticipating exposure, in his visualization of his images and in the practical application of his zone system, that his photographs including the moon could show the moon in detail and as a three dimensional object.
This picture was taken one winter afternoon during a stop while driving towards the Ahwahnee Hotel in the Yosemite Valley. The moon rising above half dome as the shadows of the setting sun were creeping on the dome's 2000 foot cliff drew attention to a picture that could not be missed. The moon here is gibbous - between half full and full. Adams was using a spot light meter with an angle of view of only half a degree so he was able to take a light reading from the moon alone in the scene and placed it in zone VII of his system.