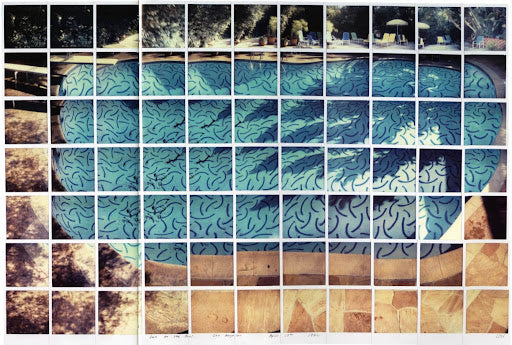 DAVID HOCKNEY ROOSEVELT POOL
DAVID HOCKNEY, ROOSEVELT POOL
British painter, draftsman, printmaker, and photographer David Hockney was born July 9, 1937, in Bradford, West Riding of Yorkshire, England. When one of his friends once told Hockney's mother, 'You must be very proud of your son,' she replied. 'Oh yes! To be mayor of Bradford!' She was referring to her eldest son, Paul.
David was the fourth of five children born before and during the war to a working-class couple, Kenneth and Laura Hockney. Kenneth, a radical thinker, was a clerk in a dry salter's, earning a meager wage. He was also a conscientious objector, which meant that the family received no government assistance when he lost his job. He, therefore, had to rely on wits, and he started a business restoring prams, which he painted to look new. 
This was the young David Hockney's introduction to any kind of 'art'. He was soon drawing with chalk on the lino floor, on a blackboard in the kitchen, and scribbling in pencil all over his brother's comics.
Despite the hardship and lack of money, the Hockney children wanted for little, least of all a good education, which their parents saw as the most important thing in their lives, and in 1947 David won a scholarship to Bradford Grammar School.
David Hockney by Carole Cutner, color print, 1982
Despite being one of the brightest boys in the school, he mostly languished in the bottom classes, having discovered that these were the only ones in which art was taught regularly. Even here, however, he found little encouragement, his former mistress at one point writing on his report, 'He should realize the ability in and enthusiasm for art alone is not enough to make a career for him.' 
Eventually, he was allowed to apply for a place at Bradford College of Art, and he now views the four years he spent painting and drawing chiefly from life as having vital to all his later work.
Hockney's output at Bradford secured him a place at the Royal College of Art in London, where he went in the autumn of 1959, joining an intake that included Allen Jones, Derek Boshier, and R.B. Kitaj. On many levels, this was an eye-opener for Hockney. 
He found freedom among the rebellious students that set his work in a new direction, and he discovered his sexuality, coming out unashamedly as being gay. His work blossomed. He dabbled in pop art, with his 'Tea' paintings, and produced several gay propaganda pictures such as Doll Boy and the 'Love' paintings. 
All of these were shown in the Young Contemporaries exhibition of 1961, a defining moment in his career as he attracted the attention of his first dealer, John Kasmin, whose gallery on Bond Street was to be the first to show his work.
It was while he was a student at the Royal College that Hockney made his first trip to the United States, another highly significant experience for him. He was blown away by New York, and by American culture in general. 
After watching an advertisement on TV for a hair-coloring product, Clairol, which suggested that 'Blondes have more fun,' he went out and dyed his hair, returning home a peroxide blond, wearing white shoes and smoking cigars. It was a look that, along with his large round-rimmed spectacles, was to define him for years to come.
He also returned fired up with inspiration, the result of which was one of his most memorable works, A Rake's Progress, his version of Hogarth's series of paintings depicting the downfall of a young ne'er-do-well in eighteenth-century London, now transported to twentieth-century New York. 
After leaving the Royal College in July 1962, complete with the rarely awarded Gold Medal, Hockney set himself up in a flat in Powis Terrace in London's Notting Hill, then an area noted for its profusion of slum properties, mostly divided up into West Indian tenants or poor students. 
It had two large rooms, one of which became his first studio. He slept in the other room, and at the end of his bed was a chest of drawers on which he painted in large capital letters the words 'GET UP AND WORK IMMEDIATELY,' a practice he has followed throughout his life. 
With Kasmin's encouragement, he had soon painted enough pictures to hold his first exhibition, Painting With People In, which opened to great acclaim at the Bond Street gallery in December 1963. By then, his name was beginning to be on everyone's lips as the new wunderkind of the London art scene. 
The show's success gave Hockney enough money to realize his next ambition, which was to spend a year in America. When he visited Los Angeles he was blown away by the beaches, the boys, and the architecture, and driving through the streets one day, he realized that no one had ever really painted the city, and decided that he would become 'The Piranesi of Los Angeles.' He soon found himself a small studio and began to paint the local architecture. 
He also explored the art scene on La Cienega Boulevard and made several artist friends, such as Bill Brice and Ed Ruscha. More importantly, he struck up a friendship with Christopher Isherwood and his boyfriend, Don Bachardy, which was to prove one of the most significant of his life. It was the first time he had come across a gay relationship that was like a marriage.
Over the next few years, Hockney returned to Los Angeles frequently, and it was on one of these trips, in the summer of 1966, when he had a job teaching art at UCLA, that he met and fell in love with a young student, Peter Schlesinger, who was the first real love of his life. 
A Bigger Splash, David Hockney, 1967
They moved to Pico Boulevard, where Hockney produced some of his most iconic paintings, starting with Beverly Hills Housewife and including A Bigger Splash, both pictures establishing him as the chronicler of life in LA. It was one of the happiest and most productive times of his life. 
In the autumn of 1968, they moved to London so that Schlesinger could take up a place at the Slade School of Art. Though Hockney had been friends with, and eventually the lover of, the fashion designer Ossie Clark for several years, it was through Schlesinger that he became friends with Clark's wife, Celia Birtwell, who was to become his muse, and whose features in one of his best-loved paintings, Mr. and Mrs. Clark and Percy.
Mr. and Mrs. Clark and Percy, David Hockney, 1970
Their friendship blossomed during a period in which her marriage to Clark was breaking down, and Hockney's relationship with Schlesinger was also foundering, a situation that eventually broke his heart. They cried on each other's shoulders, and Hockney's many beautiful drawings of Birtwell were a testament to what was in effect a love affair. 
After the break-up with Schlesinger, Hockney began to spend more time in America, where he was taken on by two highly influential dealers; Andre Emmerich in New York and Nick Wilder in Los Angeles. 
In 1973, still smarting from the loss of Schlesinger, he moved to Paris, where he set up a studio in a house rented from his close friend, the film director Tony Richardson. Here he studied under Aldo Crommelynck, Picasso's master etching printer, who taught him different techniques, including the 'sugar lift' and his ingenious method of etching in color.
In the summer of 1974, the director John Cox approached Hockney, asking him to design an opera, Stravinsky's The Rake's Progress, for the Glyndebourne Festival the following year. Hockney immediately saw this as a possible way out of the rut he was in since it would allow him to let his imagination run riot. 
A Large Diver (Paper Pool 27), David Hockney, 1978
When he returned to Paris, he was so happy with himself. He had recently begun a relationship with a young Californian, Gregory Evans, which had brought him contentment, but most of all he was excited by a new sense of freedom after finding the means of breaking the chains of naturalism that he felt had been holding him back.
Hockney was astonished when he saw Ken Tyler's large pieces by Ellsworth Kelly, which they had set up in their paper mill. What Tyler showed him were some works using a new technique he had devised with a papermaker of printing color into paper pulp.
With this technique, Hockney started making many versions of flowers, but soon got bored with them. That's when he started his 'Paper Pools' book, which was a new development for him and the world.
As the story goes, Hockney showed up one day in 1988 at the Hollywood Roosevelt with a can of blue paint and a brush attached to the end of a broom. Over four hours, he decorated the bottom of the empty pool with the circular dashes and graphic squiggles for which he is so well known. 
Pool with Two Figures, David Hockney, 1972
It's a fitting canvas for the artist, who told Architecture Digest in 2018, "I like swimming. It's the only exercise I get." And this isn't the only time water had been his muse – his 'Portrait of an Artist (Pool with Two Figures)' briefly held the record for most expensive work by a living artist when it sold at auction for $90.3 million in November 2018, before a Jeff Koons sculpture topped it in May.