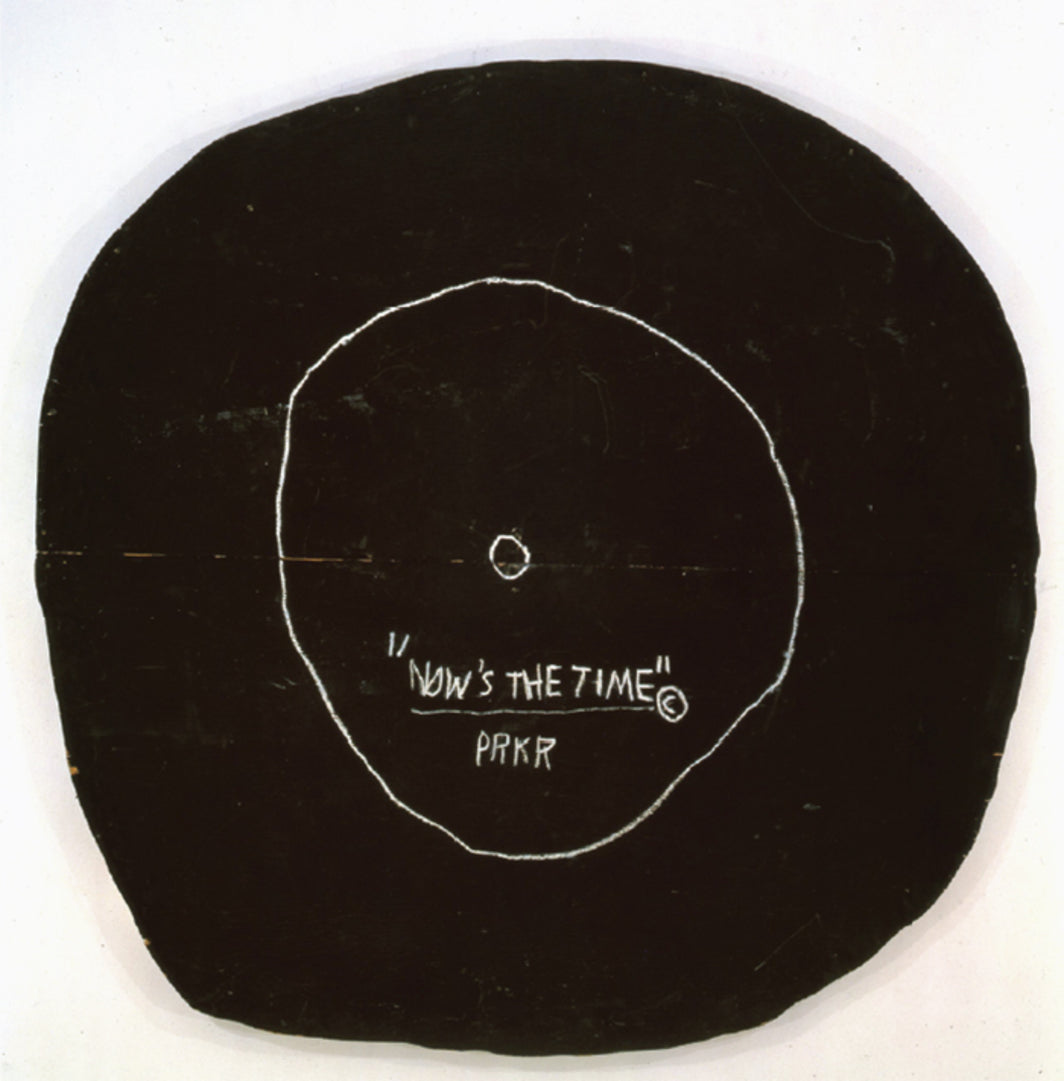 Basquiat Now's the Time Print
Basquiat Now's the Time Print
About Basquiat Now's the Time Print
The original piece showcases a vinyl pressing of the legend of Jazz Charlie Parker's album. Basquiat paid his tribute to the famous artist as they were both black history figures. Charlie Parker was recognised for his development of the contemporary jazz variant bebop while Basquiat was recognised for his visual creation of art. This artwork was a neo-expressionist and street styled piece of art created in 1985. This abstract piece of art is made out of pencil and wood.
Where can I find this print?
You can find prints like this directly on our website at Fine Art Vendor. We offer a variety of artists official prints including official Basquiat prints. We do also have authorized Basquiat posters as well for sale. We offer fine art prints directly to consumers due to our extensive connections. 
The Book
There is also a book that was created titled "Now's the time" created by the author Dieter Buchhart. This book is based on many of Basquiat's amazing works over the course of his short career. Full page colored illustrations of reproduced images of Basquiat's original works fill the books pages up. The book goes into detail on each of the works featured on the books pages and describes how his success created a path for black artists and street culture to head into the culture and create their own beautiful creations. Multiple quotes in the book are all the way from art dealers to art curators themselves, they express how Basquiat's work is influencing many artists in today's generation. The book also talks about how street art has spread into a very popular culture in the art world in today's day with artists like Banksy leading the way on that. Basquiat was a symbol of the 1980s and will be a symbol for a long time as he was the first African American artist to really create a following of himself, the first to ever do it. It's been more than a quarter century since Basquiat's death and he is still getting recognized, some may even argue that Basquiat was the greatest and most influential artist of all time. Basquiat is a hero to the aspiring black artists in today's day. The book can be found on Amazon through the search bar.
About Jean Michel Basquiat
The American artist Jean-Michel Basquiat was born on August 22nd 1960 to a Haitian father and an Italian mother. He is best known for his neo-expressionist paintings of skulls, flowers, and women with large eyes. His work has influenced many other artists including Keith Haring, Kenny Price, Sam Taylor Robinson, Julian Schnabel, Andy Warhol and Roy Lichtenstein. This article will focus mainly on the life aspects of this great painter.
Early Years
Basquiat grew up in New York City during its renaissance period when it became home to many contemporary artists such as Jackson Pollock, Willem de Kooning, Hans Hofmann, Barnett Newman, Mark Rothko, Ad Reinhardt, Marcel Duchamp and others who were major players at that time. Basquiat studied drawing under Arthur Wahl (a student of John Henry Fuseli) from 1973 until 1976. In 1977 he enrolled at The School of Visual Arts where he met his future wife Nellie Cordero. They married two years later but divorced after seven months due to mental health problems in 1980. It wasn't long before Basquiat started hanging out with local graffiti writers and began tagging walls throughout Manhattan. When asked why these young men would tag buildings instead of people, one replied "because they're easier to paint". And indeed painting them was easy since their faces had few distinguishing features. Basquiat also spent some time working as a dishwasher and busboy while trying to make enough money to support himself. According to him, his first solo show took place in 1982 at a gallery called Robert Miller Gallery owned by Robert Mapplethorpe, among others. In the same year he worked as a set designer for David Byrne's band Talking Heads.
In 1983 Basquiat moved into his own studio located in the SoHo area of Manhattan. Here he befriended another street artist named Victor Moscoso whose mural can be seen today inside One World Trade Center. That summer he traveled to Europe accompanied by fellow artists like Eric Fischbacher, Francesco Clemente, Fab 5 Freddy, Kenny Scharf, Kenny Hickey, Kenny Prince and more. On their way back to America they stopped off in Africa and visited Dakar Senegal which inspired his next series of works, namely African Americans Series. These pieces are characterized by bold colors, distorted figures and strong shapes. Not much is known about how exactly he got acquainted with Senegalese elders or what happened there. However, we do know that he painted several portraits of those old dudes and then sent them to them via mail. Some even claim that upon receiving these pictures, the elders thought they looked just like themselves.
During 1984 and 1985 Basquiat participated in numerous exhibitions both in New York and abroad. In 1987 he exhibited alongside famous names like Chaim Gross, Richard Serra, Tony Shafrazi, etc. at Leo Castelli Gallery. Soon after that, Basquiat left NYC and went traveling around the world showing his new found style. One trip included stops in Iceland, Sweden, Norway, Denmark, Finland, Italy, France, England, Germany and Spain. After returning stateside he held his second exhibition in 1988 titled Tramps & Thieves at Mercer Street Studios featuring eight new oil canvases depicting beggars and bums being mugged, beaten and robbed. As mentioned earlier, this piece greatly influenced his followers especially Keith Haring and Kenny Price. A year later Basquiat opened yet another exhibit called Radiant Child/Childish Things at Howard Wise Galleries in London. For the next three years he continued exhibiting worldwide and created dozens of new works all of which reflected his journey through different cultures from North Africa to Asia and Europe. Among his most notable works from that period are Black White Red / Blue Yellow Green, Woman I, II, III, IV, V, VI, VII, VIII, IX and X.