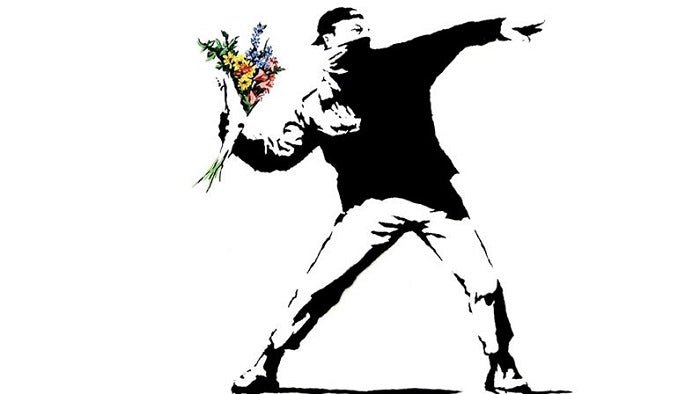 Banksy's Creations
Banksy's Creations
The Banksy piece that set me on this journey was a graffiti-covered wall near my house which features an image of two men with guns pointing at each other. It reads "GUNS DON'T KILL PEOPLE THEY MAKE AN EXCUSE FOR THE MURDER". I thought it was clever and amusing but not worth $1 million dollars that it sold for. That is when I first discovered after everybody in my neighborhood was talking about him.
Some of Banksy's Most Historical Artwork - Methods


Devolved Parliament
Banksy's satirical painting of the House of Commons invaded by chimpanzees sold in the Sotheby's Post War and Contemporary Art Evening Sale for a whopping £9.9million on October 3, 2019. 
Spanning a huge 4 metres in width, Devolved Parliament was painted in 2009 and had a pre-sale estimate of just £1.5–2million.
The artist reacted to the result by posting a quote on his Instagram from art critic Robert Hughes which included the line: "But the price of a work of art is now part of its function.
"Its new job is to sit on the wall and get more expensive' along with the comment, 'Record price for a Banksy painting set at auction tonight. Shame I didn't still own it'."
1. Banksy's Spray Painting
If you love spray paint and stencils, there's nobody better than Banksy. Bansky was truly impressive when he spray paints. He usually uses stencils to spray paint his impressive work but regardless, it is still a cool work of art every time he does it.

2. Love is in the Bin
Initially, this image was painted on a bridge. Banksy painted an image of a little girl letting go of a heart shaped balloon.
During an auction at Sotheby's in 2018, a framed copy of the artwork was auctioned for 1.04 million pounds. The biggest surprise came right after the sale was made. A hidden shredder accidentally partially destroyed the copy and this arguably made the artwork even more valuable.

3. Rage, The Flower Thrower

One of Banksy's best known creations is perhaps 'The Flower Thrower', a picture he sprayed onto walls all across Bristol city centre back in 2006. He used a mixture of watercolour paints and acrylics to create the mural. After its completion, the image appeared in newspapers worldwide.
Created in Jerusalem, this mural shows a man in a mask tossing flowers. The man has a baseball hat on and appears to be throwing the flowers at someone in a state of rage. Banksy created it during one of his travels to Palestine and the piece is thought to be in response to the three people stabbed during a pride parade or due to violence in the Middle East.

4. Show me the Monet
Show Me The Monet was bought by a phone bidder, bidding with Patti Wong, Chairman of Sotheby's Asia. Bidding throughout the lot was slow and steady until the end, as the bids climbed well above the presale estimate of £3,000,000-£5,000,000.
The record price that this particular painting "Show me the Monet" has sold for really makes a mark in the kind of year the Banksy market enjoyed. Bansky art was generating a lot of cash during that year. The Asian market particularly was very interested in and growing in the Banksy name.
5. Kissing Coppers
Banksy painted this image on the wall of a bar in Brighton during the year of 2004.
The owner of the bar eventually removed the wall and replaced it with another wall with a copy of the artwork on it and sold the original at auction.