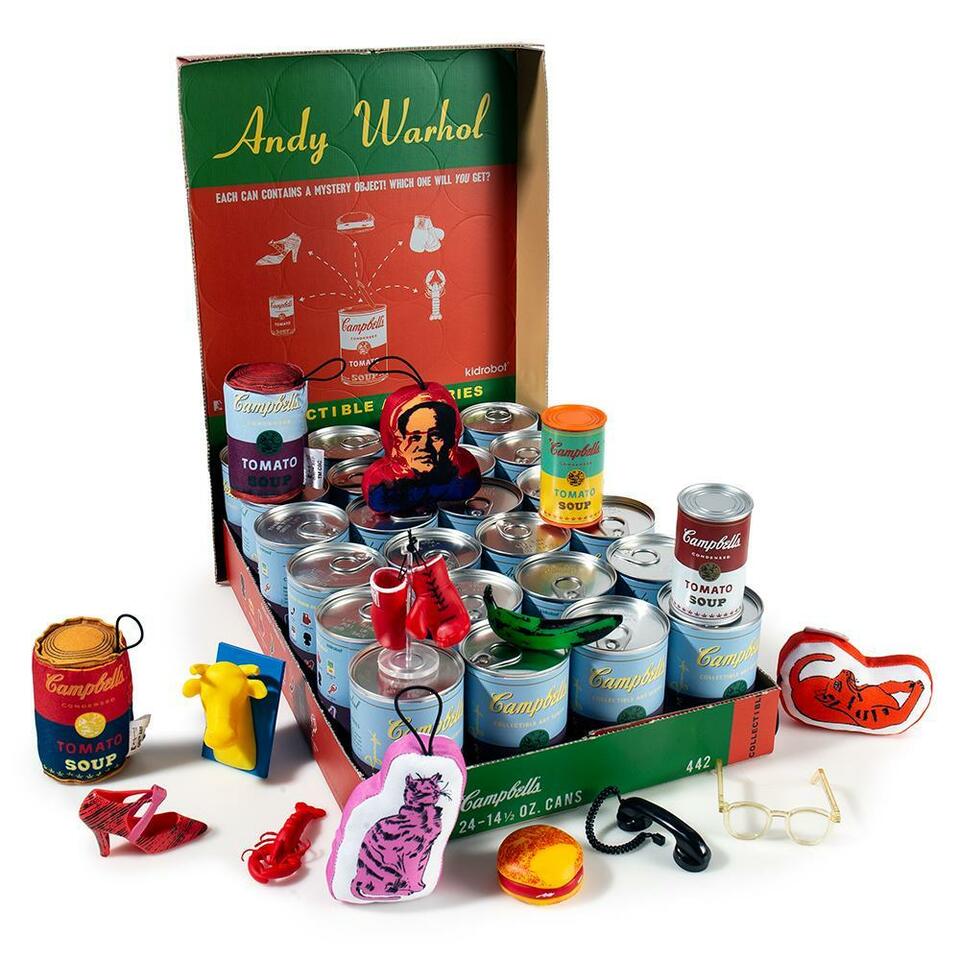 Andy Warhol Collectible Art Series
Andy Warhol Collectible Art Series
The Andy Warhol Collectible Art Series consists of several pieces of Warhol's significant artwork all compromised down to toys as seen in this picture.
Items like Sam the Cat, Warhol's boot, the iconic Campbell Soup are displayed in Andy Warhol Collectible Art Series.
The Andy Warhol Collection at Christie's has sold over $2 billion dollars worth of artwork and memorabilia in its history. In this article I will be looking at one specific collection that was auctioned off on June 6th 2005 titled "Campbell Tomato Soup" (1962). This piece was part of a larger set called The Andy Warhol Boot which included other works such as Campbell Tomato Soup, Sam The Cat, Marilyn Monroe, and Mao Zedong. All these pieces were created between 1962 to 1963 and are all examples of Pop Art. These paintings have been given many different titles including but not limited to: Campbell Tomato Soup, Two Women Wearing T-Shirt, Self Portrait, Girl with Flowers, The Green Godess, and Lady Blue Eyes. Many people consider these pieces to be some of his best work due to their simplicity and humor. Also because they are very recognizable; it can easily be seen who or what each subject represents without any confusion. They also reflect aspects of Warhol's personal life during his early years living in New York City before he moved down to California.
The particular painting titled Campbell Tomato Soup (1962) is an oil canvas painted using acrylics. It measures 24 x 36 inches. The image used for this painting depicts several women standing around a table filled with vegetables and tomatoes. One woman holds up a sign saying "Tomatoes 10c." Another woman stands next to her holding two cans of Campbell's Chunky Chicken Noodle Osmaltese Style Soup while another person eats from a plate sitting on top of the cans. A fourth woman holds up a menu stating "Creamy Potato Shepherd Pie" along with a third female eating from a bowl containing mashed potatoes. And finally there is a fifth woman wearing black shorts and a white tank top drinking Pepsi through a straw. On their heads are blue bandannas tied around their necks.

As mentioned earlier these pictures are known as being representative of Andy Warhol's personality. In this case they reflect Andy Warhol's love of fast foods especially those made by Campbell's Products. As well as reflecting his interest in collecting items that look like money. These two characteristics tie into his belief system where spending money on things only leads to wasted time and unnecessary stress when trying to make ends meet. So buying expensive clothes or cars would just lead to getting deeper into debt if not making enough money. Therefore most of Andy Warhol's artwork reflects his views of how society should run based upon his interpretation of Buddhism. His main goal in life was to spread peace and happiness amongst others. With this said I feel he really believed that we could change our minds and become better people simply by changing ourselves mentally. For him self improvement came from within yourself first instead of doing something externally like going to therapy or taking meditations classes. If someone wanted to improve themselves then they needed to do so internally rather than relying solely on external factors.
Another interesting thing about these portraits is that they show how much fun Andy Warhol had back in his day. By having fun he felt happier which allowed him to create happy scenes that reflected his view of what society should be like.
Just take a look at the way Andy Warhol paints the faces of his subjects! Even though they still appear somewhat serious they aren't stiff and rigid. Instead they're slightly animated and almost alive. Not too many artists paint people this way anymore. Most modern painters tend to go overboard with realism and detail when creating human figures. But Andy Warhol knows that beauty lies in imperfection and diversity. That's why he paints his characters with a slight smile on their face despite whatever situation they may be in.
On a final note regarding style, Andy Warhol didn't care much about originality. What matters to him was whether or not the picture conveyed a message effectively. In order to get a point across quickly and efficiently he knew that sometimes less was more. When it comes to drawing people he doesn't try to draw realistically. Rather he draws them with bold outlines. Because he wants viewers to focus mainly on the general theme of the portrait itself. In other words he tries to simplify everything possible in order to convey a concept as clearly as possible. No matter what happens in the background he always keeps the viewer focused on the focal points of the painting.

For example, in the painting Sam The Cat (1963), Andy Warhol uses simplified lines in order to keep attention on the titular character himself. He does this by placing Sam right in front of the frame and cutting off all distractions.  It helps give Sam's appearance great emphasis since he takes up nearly half of the entire canvas' space. However, by not filling in the background details such as the wall, carpet, etc., Warhol makes sure we don't lose sight of Sam altogether. He also keeps the viewer occupied by adding colorful shapes to the edges of the painting. Making everything stand out to help emphasize the overall mood. Thus giving Sam greater importance to the whole composition.
So hopefully now you understand how Andy Warhol creates his paintings. Once again he simplifies everything possible in order to communicate ideas clearly and concisely. Which is why his artwork is able to speak volumes about certain topics in a short amount of time.